Style Advice – Clothes guides
Style guide to dresses

Our illustrated dress guides cover the 28 most popular dress types including Asymmetric, Maxi, Strapless and Waist dresses. Discover the dress type characteristics, when the type become popular and which designers and celebrities made famous.
Dresses are the most loved clothing item by women by far. It is our way of dressing up everyday with a different feel and look. But finding the one – the right style that works best for our body shape, proportions, dominant colour and every changing body features can be sometimes a tricky one.
Many times is what we love most about a dress won't suit and look best on our built. Plus we need to keep in mind that our body is changing through out the years, because we put on weight or loose weight as result we might be changing our body shape. Therefore our dressing style will change in regards how to create visual balance in our body silhouette. But even if we remain the same body shape throughout the years we need later in life different dress characteristics from a dress to make us look good e.g. shoulder pads to correct sloping shoulders; high quality fabric to create a clean silhouette, comfort in our dress to move with ease.
In order to look best every day whether at work, running daily errands, parties, casual weekends, holidays or special occasions such as weddings and birthday parties we need to examine the style characteristics of a dress garment more closely. We need to ask our self questions such as does that neckline suit my bust size or neck size; does that waist line suit my waistline or will I need to create the illusion of one; does that sleeve style and sleeve length suit my arm size or/and bust size or/ and complement my overall body shape; is the hemline length suitable for my leg length and size including my calf size. Last not least we need to remember to choose dresses that are appropriate for the occasion – showing up in a maxi sequin dress at country garden party simply doesn't go with the theme and will make you look less knowledgeable on how to dress right. As well not every single dress style and fashion trend can be worn or are suited for every single age group.
Some dress trends such as the lady like style are best worn by women over 30 onwards – simply you need to more of a woman than a girl to pull off this look and giving its credibility. While the ballerina trend with its ruffles and tulles are best left to the younger generation to look and feel convincing. Even if you still share the lean silhouette and body shape it simply wont' look right with your face and age. In order to work this style trend it has to be worn by a youthful face and skin to complete the look. So, when looking for your perfect dress assess yourself first to ensure you are buying a dress that complements your body shape, built, your day to day life, style personality in order to get the most wear outs, so it becomes a staple in your workable wardrobe.
The dress must follow the body of a woman, not the body following the shape of the dress.
Don't get side tracked by the latest fashion or fashion designer. A beautiful dress or the newest collection from a great designer is not going to make you look automatically beautiful. But instead the best style design of a dress will always make you look and feel the best no matter the occasion and age. The dress choices can seem vast but once you have assessed your build , body features and other requirements you will see there are not so many choices left. So, there is order in the chaos! The good news is there is a dress for every woman. So, if you have a big bust lower neckline and corset dress will work great, if you are a pear shape Empire dresses, Trench coat dresses- as long as it suits your small or average bust line, and wrap dresses – as long as they are higher waisted- will complement your look, if you are young of age and have the right body shape body doll dress will look great, if you have a great set pair of legs and it suits your age and occasion mini dresses will be a perfect match, while if you are an inverted triangle drop waist dress, tiered dresses and bubble dresses will complement your broader shoulders to create visual balance, fitted dresses look generally best on neat hourglass body shapes, while body con dress in solid colours will suit the full hourglass body shape, shift dresses and T-shirt dress are ideal for the lean column body shape while asymmetric dress styles will look best on rectangle body shapes as long as they don't have a waist definition.
The belted dresses, wrap dresses and waist dress all require a waist in your body shape. If you don't have it stay away from these dress styles. Maxi dresses are ideal to cover up a less good leg line, but it doesn't mean that they automatically suit every woman no matter the body shape or age. Maxi dresses have their very own "Maxi style dress code". Smock dresses, fish tail dresses, off the shoulder dresses, halter dresses are dress styles best for special occasions from wedding, parties or warm weather. So, when choosing your next dress make sure that you are wearing the dress on not the dress is wearing you.
EBooks
The complete guide to dresses
Style advice on the 28 most popular dress types. Discover which designers and celebrities made them famous.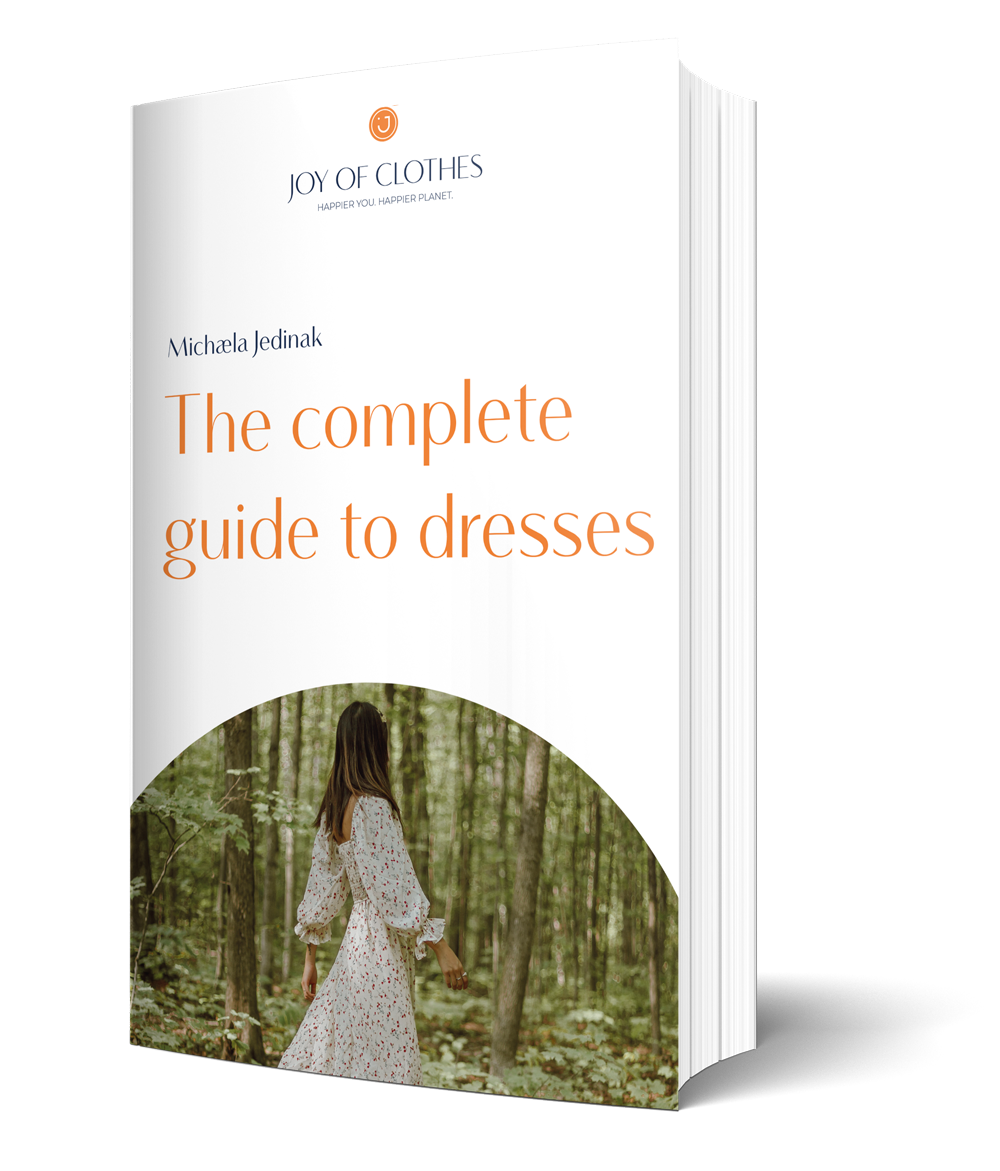 Free Course
10 tips for a Happier You. Happier Planet.
Inside you will learn simple but life-changing tips to help you and the planet be happier. sign up now and receive your free tips.
Brand Directory
See our directory of sustainable fashion brands
Our aim is to make it easier for you to find the brands which are trying to adopt sustainable fashion practices and share your love of the planet and other animals.