Jeans Advice for Rectangle Body Shape
Aim
You need to create the illusion of a waist.
Straight

Boot cut

Skinny

Low rise

High-waisted

Capri

Flare
Do's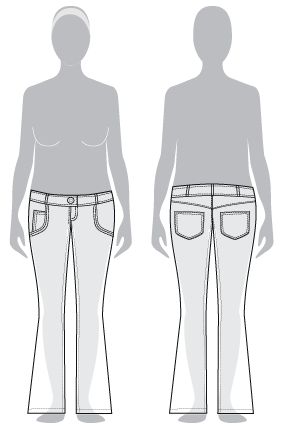 You need to create the illusion of a waist.

Look for a relaxed flared that hugs and lifts your bottom.

A straight fit from the hip to the knees with a slight flare at the end should serve you well.

Low rise jeans or jeans with a high back and low front are a good choice if you are short waisted and will create also the illusion of a waist.

A contoured waistband will help create curves.

Strategically placed washes or embellishments in the back pocket areas will draw attention to your hips.

Smaller or pointed back pockets spread far apart make your butt look fuller.

Flaps in the back pockets can also be helpful, as they add some bulk.

Lighter washes or fades along the legs and knees add shape to thighs.

Opt for curves in your legline - either skinny leg, boot cut or flared leg – but they should be only worn with a low rise.
Don'ts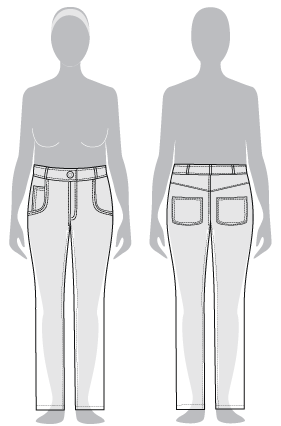 Avoid straight cuts, straight yokes and pockets.

Avoid baggy styles.

Avoid cuts with excess material at the bottom, that's what women's designer jeans do best!

Avoid medium rise which sits exactly on your non existent waistline and shows the straightness of your waist.

High rise jeans are deeply unflattering. These will create a straight line from hips to under your bust line.

Be careful with very baggy jeans or boyfriend jeans - they can easily make you look boxy from the back.
Jeans style advice: What you should know
Save and Share