The obvious variation in waist type comes in the "rise", which is the length of the jeans from crotch to waistband. Though it is a very popular styling category for designers, it is nonetheless a subcategory of the type of cut. From super – low rise (Brazilian) to seventies style high-waisters, how low you go is a matter of what your figure allows rather your taste.
Low rise and other waist levels 
Super high rise
Waistband is more than 1 inch above your waist.
High rise jeans
Waistband is 1 inch above your waist.
Medium rise jeans
Waistband is located precisely on the waist.
Medium to low rise jeans
Waistband is located typically 2-3 inches below the belly button. The most popular rise in most denim brands, especially for women.
Low rise jeans
Very low, 3-5 inches below the belly button.
Ultra low rise jeans or Brazilian low rise
Brazilian jeans are growing in popularity and are renowned for their daring sexy cuts, high quality and original embellishments.
Tips for choosing your rise
Always consider your body shape, length and proportions. If you are long in the body, you will need a higher rise-the lower the waist, the shorter your legs will look.
For most women, medium-rise jeans are the most flattering. The waistband should sit a couple of inches below the belly button.
If you are conscious of a big tummy, a higher-rise style will help eliminate some rolls. But don't mistake them for a girdle, because they will make their way upwards by being pushed up over the waistline. Not a nice picture!
Really high-waisted jeans can quickly look old fashioned unless you are going for a sophisticated elegant look. Otherwise opt for a waistband that sits an inch or so above the waist.
A low-rise comes with two things to consider. Firstly, it can show butt-cleavage (also known as builders bottom) and secondly, the extra weight around your tummy is pushed up over the waistline and causes a muffin top.
Super low-rise jeans are best for lean column figures .If you are pear shaped and carry some weight between your belly button and jeans then they will make your hip area look bigger.
Butt cleavage is never a nice sight for anyone: Opt for a curved waistband that will minimise showing off the extra weight you carry.
Your jeans must fit your waist, so that the waistband won't cut into you. Choose a size up so that the jeans will skim over your curves rather confine them.
EBooks
The complete guide to jeans
Jeans are great multitaskers, but even they aren't miracle workers. This complete guide to Jeans will give you all the know how to choose the perfect pair.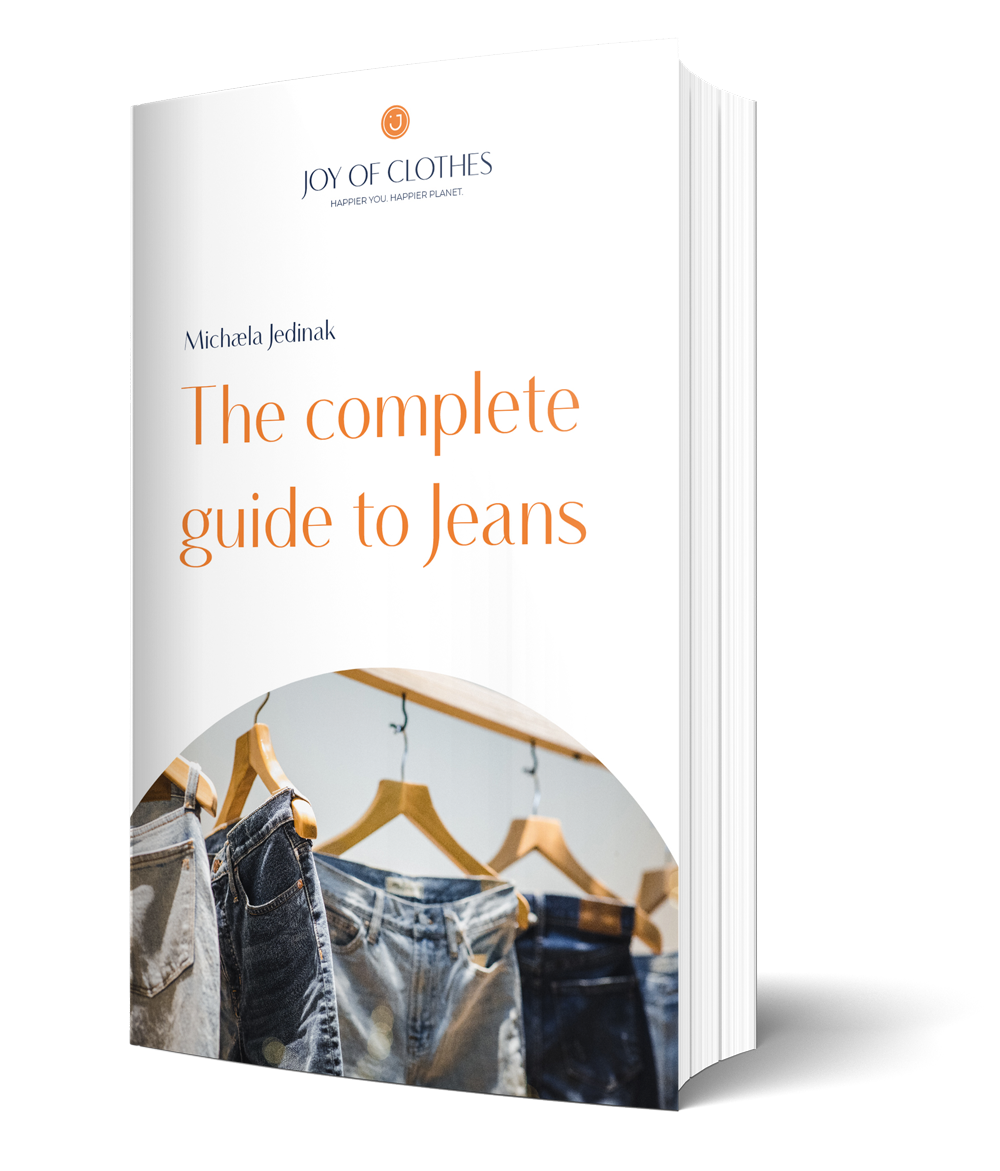 Free Course
10 tips for a Happier You. Happier Planet.
Inside you will learn simple but life-changing tips to help you and the planet be happier. sign up now and receive your free tips.
Brand Directory
See our directory of sustainable fashion brands
Our aim is to make it easier for you to find the brands which are trying to adopt sustainable fashion practices and share your love of the planet and other animals.