| Waist (inches/cm) | UK | USA | Italy | France | Japan |
| --- | --- | --- | --- | --- | --- |
| 24 / 61 | 6 | 0 | 38 | 34 | 53½ |
| 25 / 63 | 6/10 | 0/2 | | | |
| 26 / 66 | 8 | 2/4 | 40 | 36 | 7 |
| 27 / 69 | 8/10 | 4 | | | |
| 28 / 71 | 10 | 4/6 | 42 | 38 | 9 |
| 29 / 74 | 10/12 | 6 | | | |
| 30 / 76 | 12 | 8 | 44 | 40 | 11 |
| 31 / 79 | 12/14 | 10 | | | |
| 32 / 81 | 14 | 10/12 | 46 | 42 | 13 |
| 33 / 84 | 14/16 | 14 | | | |
| 34 / 86 | 16 | 14/16 | 48 | 44 | 15 |
| 36 / 91 | 18 | 16 | | | |
| 38 / 91 | 20 | 16/18 | | | |
| 40 / 101 | 22 | 18 | | | |
Understanding jeans sizes
There is no universal sizing system. Therefore a lot of manufacturers' fit guides can be a little on the generous side, so that we can "fit" into a pair one size smaller than our actual size. The psychological effect is obvious. Who wouldn't swear that these are the best fitting jeans they have ever owned for their size 10 body, even though they are really size 12!
Retailers and manufacturers alike have their own reasons for not wanting a "uniform sizing code", if such a thing were even possible. And that is to perpetuate the mystique of the perfect fit. They believe that a brand's "sizing" is an integral part of its identity. It distinguishes one designer from the other in the eyes of the consumer. A Gap jeans fit is very different from a Rock & Republic. They each shoot for a segment of the market that will, when they find them, swear that they are the best jeans ever.
That is the way it should be – just think of how difficult it would be for one brand to satisfy all shapes and sizes, and how dull. That is also why, when we find a brand whose cut, fit and sizing fits us perfectly, we become loyal advocates for his label. The whole sizing mess is unavoidable, because it creates customer loyalty.
My advice is, if they fit, great, it doesn't matter what the tag says. (I do, however, love the labels!)
EBooks
The complete guide to jeans
Jeans are great multitaskers, but even they aren't miracle workers. This complete guide to Jeans will give you all the know how to choose the perfect pair.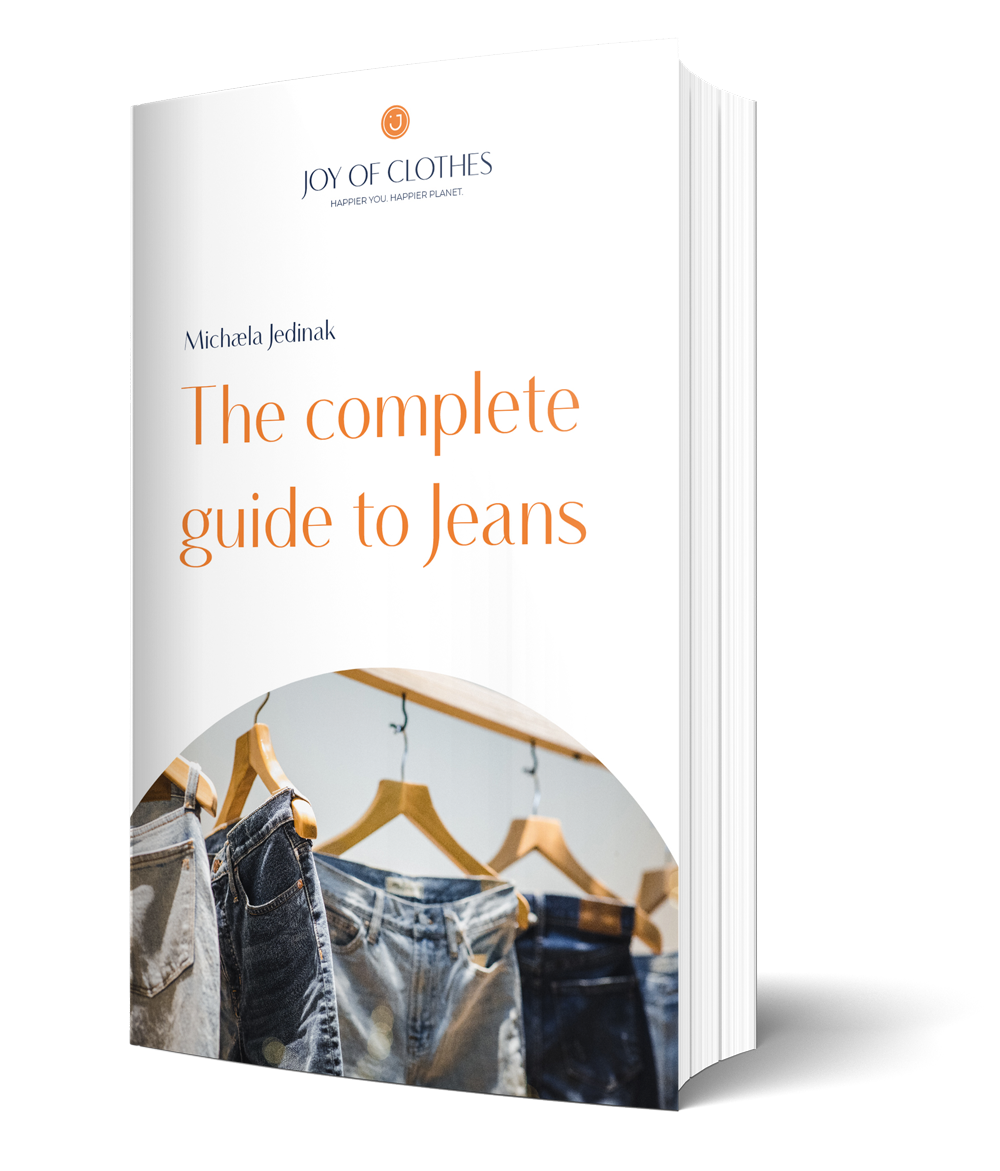 Free Course
10 tips for a Happier You. Happier Planet.
Inside you will learn simple but life-changing tips to help you and the planet be happier. sign up now and receive your free tips.
Brand Directory
See our directory of sustainable fashion brands
Our aim is to make it easier for you to find the brands which are trying to adopt sustainable fashion practices and share your love of the planet and other animals.