The all important front and rear view! Pockets are key – consider size and placement!
From embroidered or embellished logos to playful squiggles and bottom-lifting darts, back pockets are now serious fashion features on jeans.
Some pocket type options include
4-pocket: Normal configuration but there's no small pocket for change.

5-pocket: This is the most widely used pocket configuration, with the fifth pocket being the small coin pocket.

Fashion pocket: Embellished, decorated.

Flap pocket: Can be very flattering on a woman with a small rear.

Front patch pocket: Attached to the exterior of the pants.

Multi-pocket: As used in carpenter/cargo styles.

Rear patch pocket: Attached to exterior of pants.

Seamed pocket: Pocket in inside pants, opening finished with a seam.

Utility pocket: As used in cargo and carpenter pants.
Your rear view should be the first thing you look at when trying on jeans – the right pair can work miracles, but the wrong ones can add unwanted bulk.
If you are tall, leggy and have a perfectly balanced body shape (neat hourglass) then the choice of front and back pocket is yours. Otherwise, less is more and you need to be careful when choosing the right pockets for your front and bottom. Pockets mean volume and attention, which you generally want to avoid if you have fuller hips, bottom, and thighs.

Pockets help emphasises curves to create sexy bottoms in general. But plain pockets set straight on can have the effect of "flattening" your bottom, which make them a great choice for bigger bottoms or pears. While pockets that tilt outward or are curved can create the illusion of a curved bottom and make them a fantastic criteria for lean columns and rectangles to create the illusion of female curves and add roundness to their mannish shapes.

If you are petite or short choose small pockets instead – they have to match your petite silhouette or height. The same goes for your front pockets.

Keep in mind that big front pockets don't only add weight but they also shorten your leg line. Therefore big, chunky pockets with detailing only really work on tall and leggy women.

Low, bigger back pockets are flattering for larger bottoms to balance your shape. Small back pockets will make appear a big bottom even larger because they have the negative effect of exaggerating its size. The pocket should begin halfway down the cheek and end at the top of thigh. Women with bigger bottoms should avoid any details on top such as embroidery or embellishments.

Matte gold buttons and metallic stitching can make your jeans look expensive and glamorous.

Jeans with no back pockets are generally regarded as no-no.

Also pay attention to the back seam ( the central seam that joins the two legs together), because they should be cut so that it lifts and separates the bottom. The best way of finding out is by trying them on – it's quite difficult to spot on the hanger.
EBooks
The complete guide to jeans
Jeans are great multitaskers, but even they aren't miracle workers. This complete guide to Jeans will give you all the know how to choose the perfect pair.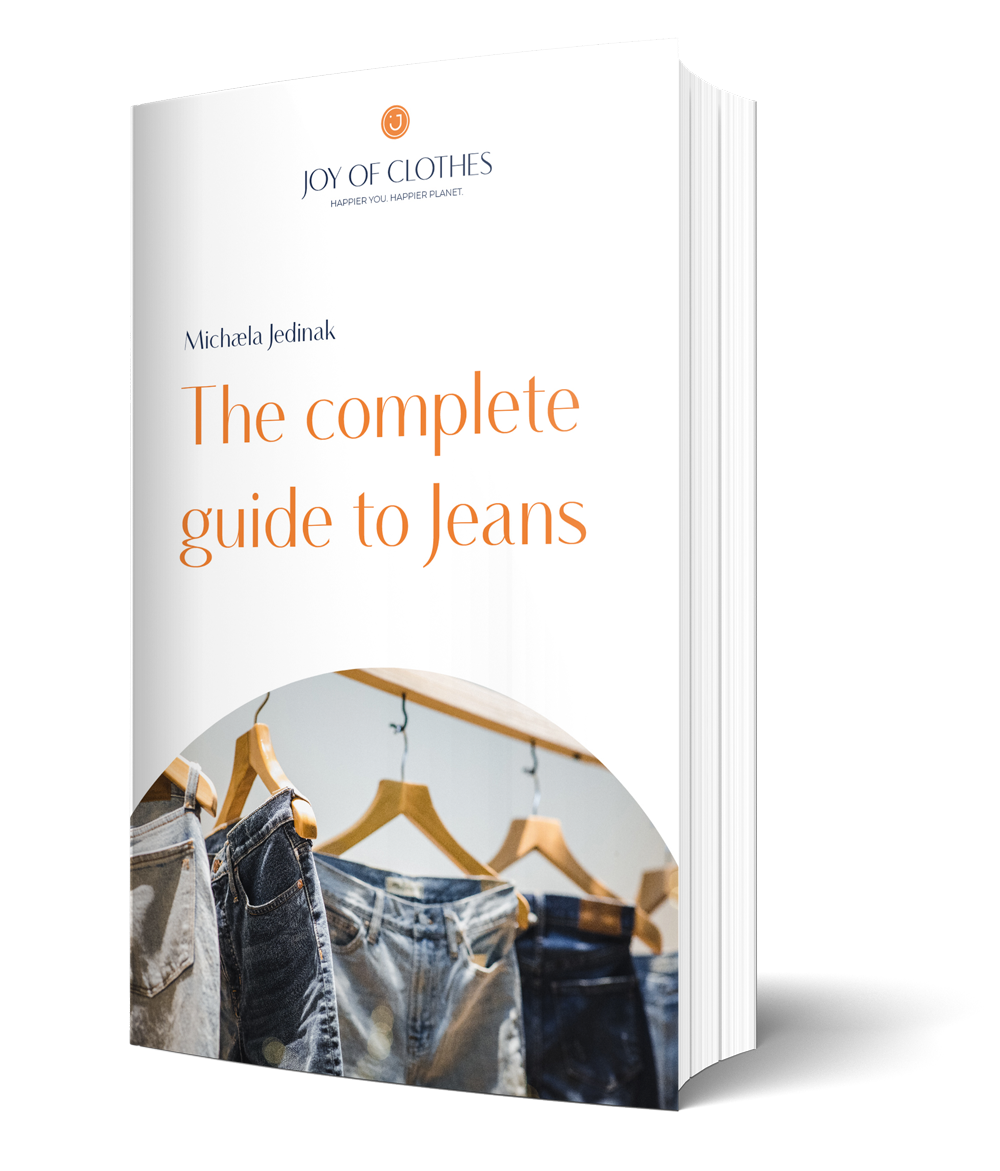 Free Course
10 tips for a Happier You. Happier Planet.
Inside you will learn simple but life-changing tips to help you and the planet be happier. sign up now and receive your free tips.
Brand Directory
See our directory of sustainable fashion brands
Our aim is to make it easier for you to find the brands which are trying to adopt sustainable fashion practices and share your love of the planet and other animals.