Jeans Advice for Pear Body Shape
Aim
To enhance your upper body in order to balance with your lower half.
Straight

Boot cut

Skinny

Low rise

High-waisted

Capri

Flare
Do's
The first rule for pear shapes is to choose your waistband carefully. Often jeans that are wide enough on the hips will gape at the waist, or fitted waists will fee uncomfortably tight on the hips. For this reason, opt for a hipster cut, which avoids the issue of waist fit and has the added advantage of visually halving the line of your hips. Hipsters are widely available, easy to accessorise, and very comfortable.

Choose a leg width to balance out your shape – don't buy wide legged jeans to disguise your legs, they'll just expand your silhouette. Instead, go for boot cuts or flares which even out the triangle shape of your body into more of an hourglass.

And as for your bum – the general rule is, the bigger the bottom, the bigger the pockets should be.

Denim wise, stick to something simple and dark washes - stay clear of any washed out styles.

Keep your footwear substantial- if you are wearing evening shoes make them a platform or a wedge (as luck would have it these are super trendy now), if you are wearing boots keep them chunky, but don't go for dainty flats and spiky heels as these knock your shape all out of proportion.

Boot-cut and flared legs give a long and lean look, but the gentler flare of the bootcut will serve you better.

Jeans in stretch fabrics will make any fit more comfortable.

As obvious as this may sound, it is especially important for women with a tummy: buy jeans that are the right size! You do not want to create a muffin top.

Try to find a pair in which the outer seam is brought further to the front. This gives the illusion of thinner thighs.
Don'ts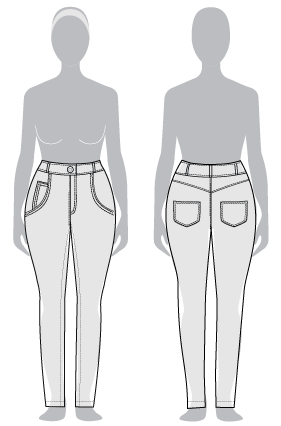 Pleats widen the look of hips and thighs.

Avoid small pockets in rear, as well as pocket-less. jeans, pockets placed too wide apart or bulky flap pockets which will add extra inches.

Avoid tight jeans, especially those that are tight at the knees.

Avoid bundling fabrics at waist.

Avoid horizontal detailing at hip level, such as contrasting pockets.

Light blue indigo jeans or jeans with contrasting washes on thighs, bottom and calves will add pounds and draw attention to unflattering body parts. Also, avoid washes in the back pocket area, as well as any colour print or embellishment of any sorts.

No to capris or any cropped or styles. That includes turn ups.

Avoid pockets that sit too low, near the beginning of the butt, as they will shorten the look of your legs.

Avoid excess fabric in the rear area.
Jeans style advice: What you should know
Save and Share