Jeans Advice for Neat Hourglass Body Shape
Aim
You have the "ideal female" figure, and almost anything goes. Best to wear shaped and fitted lines in order to follow your body line.
Straight

Boot cut

Skinny

Low rise

High-waisted

Capri

Flare
Do's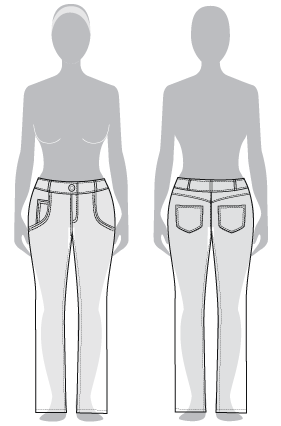 This is the classic ideal shape - it allows the most flexibility in clothing. You can choose almost any type of jeans shape, length, shape or style (as long appropriate to your age and occasion) - but be careful when choosing a waistband, which could be a tricky business for your shape.
You may have the classic problem of the pear shaped, where anything wide enough on the hips gapes at the waist, and anything fitted on the waist is too small in the hips. An easy option is to go for a hipster cut (possibly with a higher rise at the back to enhance your waist line. In that way it avoids the issue of waist fit and has the added advantage of visually halving the line of your hips).

Try jeans that give a smooth fit at the waistline and hips and aren't bulky in the thighs.

Skinny jeans are ok, but a straight leg is better. Look for jeans that run straight from the hips to the knees, with a good flare at the end of the legs e.g. boot cut.

Look for a cut with larger hip and smaller waist to avoid an opening in the back.

Go for stretch denim, it will hug your curves and work with them.

Low rise jeans will help balance your proportions if you are slightly short waisted.

Embellishments and details such as contrasting washes on your jeans will work for your figure, but don't overdo it.

Pocket as yoke details will underline your curvy bottom.
Don'ts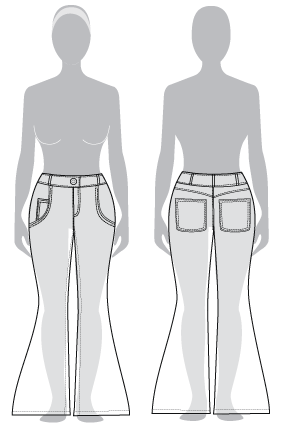 Don't conceal your delicate structure in oversized pants.

Avoid baggy as well as too tight jeans.

Don't overdo it with too many details: contrasting washes, distressed look, embellishment in your back pockets…it will undermine your curvy figure. Opt for one detail instead.

Be careful with wide legs. They work when you are tall but if you opt for an exaggerated leg and you are of normal height they can easily overpower - unless you are going for a certain look.
Jeans style advice: What you should know
Save and Share