Jeans Advice for Lean Column Body Shape
Aim
To the give the illusion of feminine curves on hips and thighs.
Straight

Boot cut

Skinny

Low rise

High-waisted

Capri

Flare
Do's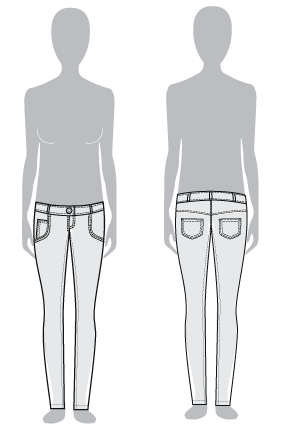 To add the illusion of curves, choose cigarette or tapered jeans (narrowing leg line). Because they are slender at the calves, they make the hips look wider and add curves to flat bottoms.

Keep your leg line uncluttered, but go for a lean shape, cut and style with a darker colour e.g. black, navy blue or charcoal. Darker colours will lengthen your legs.

If you are of petite height, high-waisted jeans will elongate your leg line.

Low rise or super low rise works best for leggy or tall women.

Pockets will help to emphasise curves on your bottom. Opt for rounder shapes for a curvy bottom.

Choose curved yokes for adding curves to your bottom.

Different washes or contrasting dyes can help to create the illusion of curves in the thigh, bottom and waist area.

Cropped styles will work also.

Try boyfriend and baggy jeans if you're tall (as long as they are not too baggy for your silhouette).
Don'ts
Avoid wide legs, flared legs and even boot cut, because they will overpower your body and will make you appear shorter.

Low rise is a no no if you are shorter, because it will shorten your leg line.

Avoid straight pockets and yokes.

Medium to regular rises are not great since these styles highlight your boyish form instead of creating the illusion of a waist.

No turn ups in straight legs - again, it will emphasise your boyish body shape.
Jeans style advice: What you should know
Save and Share