Jeans Advice for Full Hourglass Body Shape
Aim
To follow bodyline - Key here is not to hide your curves.
Straight

Boot cut

Skinny

Low rise

High-waisted

Capri

Flare
Do's
You are well proportioned with gorgeous curves, and you need a pair of jeans that will highlight your femininity and flatter your figure.

Choose jeans that are made of stretch denim; these will hug the curves and give a smooth fit at the waistline and hips.

Look for jeans that are cut with larger hips and a smaller waist.

Another option is jeans that are slightly flared, or have a wide leg - this will balance out the hips and highlight them without flattening them.

If you have heavy thighs opt for dark coloured jeans.

Stick to clean lines without added extras so as to maintain a sleek silhouette.

Darker jeans can create a slimming effect so opt for indigo.

Mid-rise jeans are the way to go, especially for those who are carrying some extra weight in the tummy, but low-rise jeans work great for you as well if your tummy is flat.

For fuller figured ladies, the rise is key to finding the right jeans.

Those who are lucky enough to have curves in all the right places look stunning in boot-cut or flared jeans. Also a wide leg will work if you are tall and not too fully figured.
Don'ts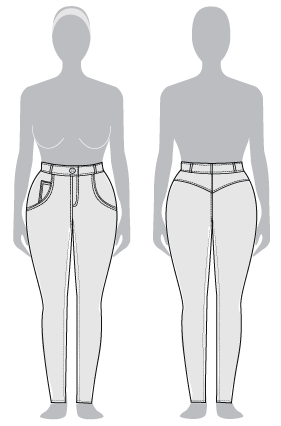 Avoid too small sizes otherwise any extra weight will spill over the waistband.

Avoid any jeans that are tapered or ultra-tapered legs, as they call attention to the hips and thighs. They will make your curves fuller and disproportional on top of it.

Be careful with high waisted jeans - not only because of the weight that will be pushed ultimately upwards, but also because they shorten your torso and the waistline may look too close to your bust. The result is that everything will look cramped and cluttered.

Don't feel you need to hide your shape in a baggy fit - this will only expand your figure dramatically and look bulky.

Avoid jeans with too much stretch. Stick to a pair with just enough give that they feel comfy and steer clear of unflattering low rises, choosing something that sits near your belly button. Pleats widen the look of hips and thighs, so avoid them.

Avoid jeans that are tight at the knees.

Avoid distressed jeans with faded bottoms and thighs no matter how fashionable.

Avoid details on hips and thighs e.g. embellishments and detailed pockets, flaps or faded styles.

Say no to low rises, and opt for something that sits near the belly.
Jeans style advice: What you should know
Save and Share