Jeans Advice for Apple Body Shape
Aim
Keep details in top and lower thirds - elongate, do not cut in half.
Straight

Boot cut

Skinny

Low rise

High-waisted

Capri

Flare
Do's
If you like hipsters make sure you wear long, loose fitting tops to avoid exposing any overspill. Anything too high rise will draw attention to a thicker waist, particularly if it is highly embellished.

You want to make the most out of your slim legs, so don't go for a wide leg or drainpipe style either. Find the perfect middle ground in a pair of straight cut, or very slightly bootcut legs. These will balance out the proportions of your frame, and show off your great legs. Look for jeans that fit your waist and are relaxed in the hip and thigh areas without adding bulk.

Panels of slightly contrasting dyes are good for adding contours.

If you have a bit of a tummy, choose wide waistbands to avoid drawing attention to a thicker waist.

Minimise a prominent tummy with flat front or plunge pockets, while making the most of a flatter bum with big or flap pockets.Opt for darker indigo.

Look for jeans with the seam closer to front, this gives the impression of thinner thighs.

Try mid rise or choose a rise that is at least one inch below your belly button.

Diagonal front pockets also have a slimming effect.

Monochromatic dressing should add to the slimming effect.

Keep your jeans at least to ankle length if not longer.
Don'ts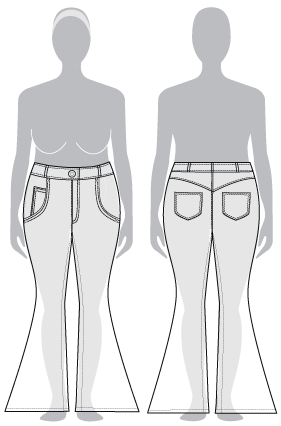 Pleats widen the look of hips and thighs, so avoid them.

Avoid jeans that are tapered or ultra-tapered legs, as they call attention to the hips and thighs.

No to capris or other short styles.

Avoid baggy jeans, especially in the rear.

Don't use cuffs, narrowing leg or skinny jeans.

Avoid jeans with small pockets.

Avoid jeans that are tight in the knees.

Avoid distressed jeans with faded bottoms and thighs no matter how fashionable.

Avoid figure-hugging styles.

Don't wear belts too tight.

Avoid high-waisted jeans, they will make your bottom look bigger.

Also avoid jeans with too much stretch. Stick to a pair with just enough give that they feel comfy.

Don't go for anything too dramatic - keep them simple in style and shape.
Jeans style advice: What you should know
Save and Share