Style Advice – The guide to body shapes
The lean column body shape
To determine if you are an lean column body shape, look at yourself in the mirror in your underwear. Stand with your legs together and your arms a bit away from your sides. Examine the area from under your arms, past your bust and ribcage, over your waist and hips to the fullest part of your thighs.
Then compare yourself to the image and review the questions and characteristics below. We suggest you look at all the body shapes to find your closest match.
BODY SHAPE STYLE ADVICE
DO YOU
Wear the same size on your top and bottom halves?

Have a minimal bust?

Have little waist definition?

Have a flat hips and bottom?
YOUR BUILD IS CHARACTERISED BY:
Narrow shoulders

Flat chest or small bust

Small and non-defined waist

Narrow hips and flat bottom
OTHER BODY SHAPE TENDENCIES
If you have gained or lost weight many times your body shape can change into another one. Read below to see what other body shape tendencies you might have
You lean towards a pear shape if your hips are slightly broader (saddle bags) than your hips

You lean towards an inverted triangle if your shoulders are slightly broader than your hips

You lean towards a rectangle body shape if you are of a larger bone structure and have a medium bust
GENERAL RULES FOR YOUR BODY SHAPE AND HOW TO CREATE VISUAL BALANCE:
You need to create the illusion of curves around hips and bust and of a waist
Use layering to shorten your long top half

Create roundness around your extremities e.g. sleeve, leg line, neckline

Wear high or low waisted styles – broad shoulders; unfitted jackets, which slope to the waist; highlight your hips and bottom using pockets and pleats
YOU SHOULD AVOID:
Figure-hugging garments

Long straight fitted lines in dresses, trousers and sleeves

Tops, shift dresses with square necklines

Shapeless jackets; loose or droopy styles that hang from your shoulders

Dropped waistlines

Bulky, heavy textures

Double breasted jackets

THE BODY SHAPES AND THEIR CLOTHING LINES
Every body shape has its own characteristics and silhouette, which needs to be addressed when choosing your clothes. The aim of choosing the right clothes is to balance your silhouette. You may not be able to follow all the fashion tends that are out there, but nowadays there are so many trends in fashion that there is something available for every body shape. So, don't get sidetracked by falling in love with a style and look that doesn't match your body shape:
NECKLINE FOR LEAN COLUMN BODY SHAPE
Very flexible in your neckline; great choices are ruffles, cowl, necktie, collars, turtle neck, scoop neck- they will give you roundness and put the focus on the centre of your body.
SLEEVES FOR LEAN COLUMN BODY SHAPE
Any form that will give volume to your arms e.g. batman, dropped sleeve line, batman like sleeves, flared, cuffed, ¾ length, loose short sleeves.
TOPS & SHIRTS FOR LEAN COLUMN BODY SHAPE
Tops that add volume, curves and shorten your top half are best e.g. empire line, yoke line, layering, wrap tops, push up bras, breast pockets, padded tops. Details and patterns such as horizontal lines; dotty or floral are great as are scarves and shawls.
JACKETS FOR LEAN COLUMN BODY SHAPE
Waisted jackets or belted jackets with details such as pockets; shoulder details; wide lapels; vent; single or double breasted. Shoulder pads will give extra width and the illusion of a waist.
COATS FOR LEAN COLUMN BODY SHAPE
Martingale shape, trench coats, single or double breasted with wide lapels, breast and waist pockets. Belted versions are good for giving you a shaped waist and curves.
DRESSES FOR LEAN COLUMN BODY SHAPE
Princess line with curved darts and details, wrap, empire line.
SKIRTS FOR LEAN COLUMN BODY SHAPE
The slimmer you are the shorter you can go in your skirt (but keep in mind what is the most appropriate – both for your age and the occasion). Good shapes are a slight A-line, pencil skirt, flip, bias or wrap.
TROUSERS FOR LEAN COLUMN BODY SHAPE
Choose from shaped, pleated and pocketed, narrowing or tapered leg line, culottes, capris and shorts. Details such as turn-ups, washes, embellishments, side pockets are ways to add volume and curves.
JEANS FOR LEAN COLUMN BODY SHAPE
Choose skinny or bootcut leg lines. Avoid straight or wide leg because they will overpower your frame.
SHOES FOR LEAN COLUMN BODY SHAPE
Wear kitten or medium heels, ankle straps and boots, ballerinas, Ugg boots, cowboy boots or any other boot with calf details such as straps, buckles. Opt for a rounded toe in your footwear.
BAGS FOR LEAN COLUMN BODY SHAPE
Choose round shaped bags with soft edges; clutch bags of petite to medium size.
SWIMWEAR & BEACHWEAR FOR LEAN COLUMN BODY SHAPE
Padded styles are perfect. Use patterned two-pieces to emphasize your bust and hips. Vertical chevron lines on a one-piece will give the illusion of shape.
EBooks
Learn about your body shape
Read our advice on what to wear for your body shape.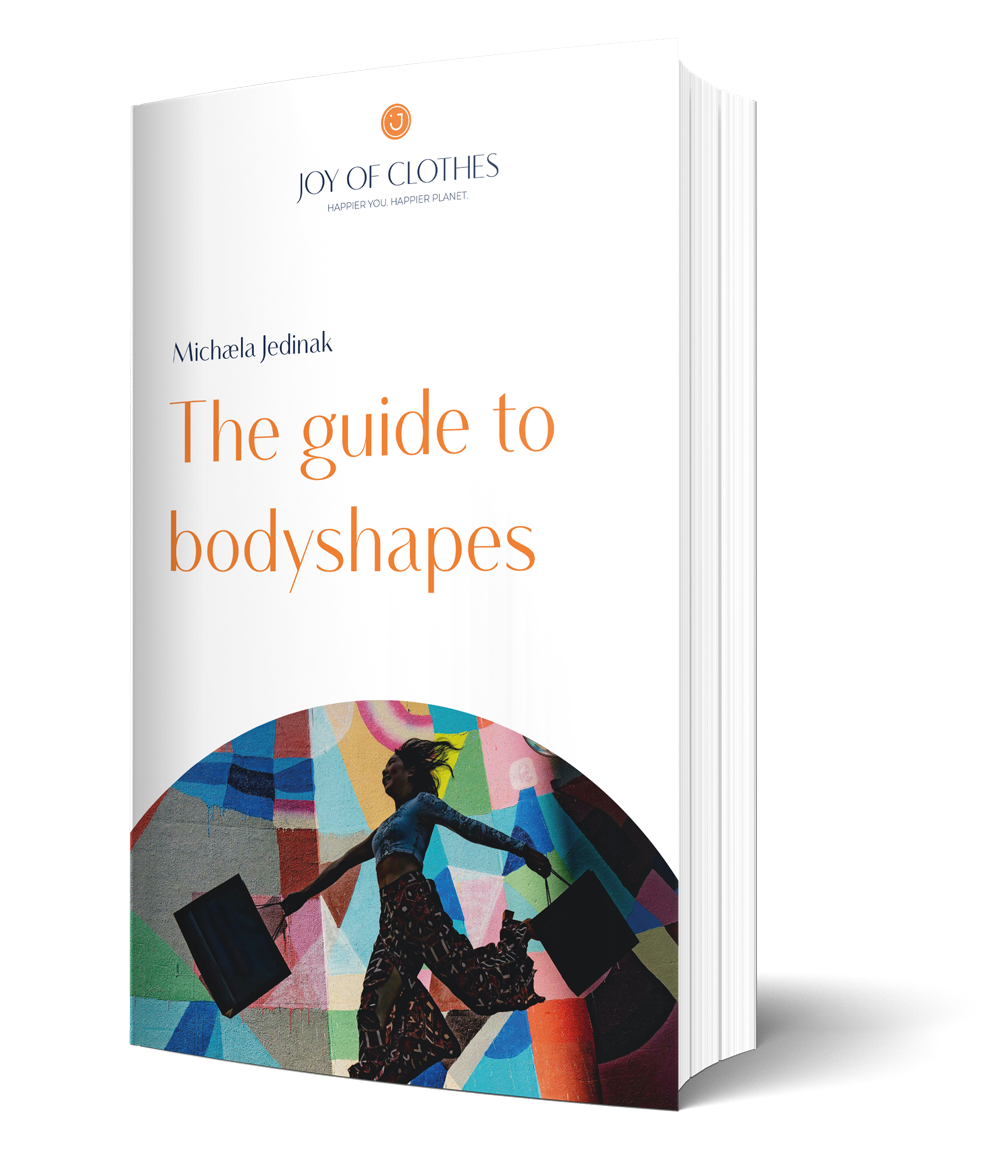 Free Course
10 tips for a Happier You. Happier Planet.
Inside you will learn simple but life-changing tips to help you and the planet be happier. sign up now and receive your free tips.
Brand Directory
See our directory of sustainable fashion brands
Our aim is to make it easier for you to find the brands which are trying to adopt sustainable fashion practices and share your love of the planet and other animals.