Style Advice – The guide to body shapes
The rectangle body shape
To determine if you are a rectangle body shape, look at yourself in the mirror in your underwear. Stand with your legs together and your arms a bit away from your sides. Examine the area from under your arms, past your bust and ribcage, over your waist and hips to the fullest part of your thighs.
Then compare yourself to the image and review the questions and characteristics below. We suggest you look at all the body shapes to find your closest match.
BODY SHAPE STYLE ADVICE
DO YOU
Wear the same size on your top and bottom halves?

Have a small bust?

Have a little waist definition?

Have flat hips and bottom?
YOUR BUILD IS CHARACTERISED BY:
Straight shoulder line and ribcage

Straight hips and bottom

Very little waist definition

Average tummy
OTHER BODY SHAPE TENDENCIES
If you have gained or lost weight many times your body shape can change into another one. Read below to see what other body shape tendencies you might have
You lean towards a pear shape if your hips are slightly broader (saddle bags) than your hips

You lean towards inverted triangle if your shoulders are slightly broader than your hips

You lean towards a column if you have a small bust and are petite in your shape and scale
GENERAL RULES FOR YOUR BODY SHAPE AND HOW TO CREATE VISUAL BALANCE:
You need to create the illusion of a waist
Keep your silhouette uncluttered

Unstructured jackets that gently shape the waist

Hip and bottom details are good – as long they create gentle curves
YOU SHOULD AVOID:
Details at the waist such as noticeable waistband; high-waisted trousers; belted jackets and coats at the front

Straight lines from top to toe e.g. straight jacket worn with straight trousers/with pin stripes/with a pencil skirt

Boxy jackets or coats as well double breasted coats and jackets; boxy pleats

Fussy, busy or droopy style in your clothing

Rectangle shaped bags or clutch bags

Square toe shoes
THE BODY SHAPES AND THEIR CLOTHING LINES
Every body shape has its own characteristics and silhouette, which needs to be addressed when choosing your clothes. The aim of choosing the right clothes is to balance your silhouette. You may not be able to follow all the fashion tends that are out there, but nowadays there are so many trends in fashion that there is something available for every body shape. So, don't get sidetracked by falling in love with a style and look that doesn't match your body shape:
NECKLINE FOR RECTANGLE BODY SHAPE
Opt for lower, wider necklines such as jewels, scoop boat necklines – this looks even better with details such as embellishments around your décolletage.
SLEEVES FOR RECTANGLE BODY SHAPE
Loose fit, puffed, cap ¾ sleeves, flared, cuffed or rolled up sleeves.
TOPS & SHIRTS FOR RECTANGLE BODY SHAPE
Simple and clean style lines; add roundness to your necklines or sleeves; empire line, tops that drape under your bust and give the illusion of movement; splits at your waist.
JACKETS FOR RECTANGLE BODY SHAPE
Structured and shaped with round lapels and/or neckline.
COATS FOR RECTANGLE BODY SHAPE
Straight lines with some emphasis on the waist; empire line, uncluttered lines.
DRESSES FOR RECTANGLE BODY SHAPE
Kaftans with splits at waist, simple straight lines, empire line, shift dresses.
SKIRTS FOR RECTANGLE BODY SHAPE
Crossover, flip, panelled; A-line.
TROUSERS FOR RECTANGLE BODY SHAPE
You are quite flexible, but opt for low-waisted options (if you prefer, mid-waisted is ok) that flow in their leg line e.g. boot cut, flare or wide leg. Choose trousers with hip, thigh or leg details such as pockets, pleats or turn-ups.
JEANS FOR RECTANGLE BODY SHAPE
Straight fit from the hip to the knees with a slight flare (boot cut) looks great. Details on your bum e.g. back pockets, embellishments work well.
SHOES FOR RECTANGLE BODY SHAPE
Choose round or oval toe shoes instead of square e.g. ballerinas, Ugg boots, mary janes.
BAGS FOR RECTANGLE BODY SHAPE
Go for straighter styles e.g. rectangular shapes in bags or clutch bags.
SWIMWEAR & BEACHWEAR FOR RECTANGLE BODY SHAPE
Look for swimsuits that have a form fitting waist and a soft cup bra. Two pieces do just that and make rectangle body shapes appear a little curvier. Choose solid bold colours and plunging necklines to make the bust and bottom stand out. Diagonal lines can do the same. A one-piece swimsuit with an overall bold bright colour and darker colour in the waistline gives the illusion of waist and is a good choice. Other great looks are tank-style suits or tankinis. These will accent the mid line, drawing attention to the smallest part of the body.
EBooks
Learn about your body shape
Read our advice on what to wear for your body shape.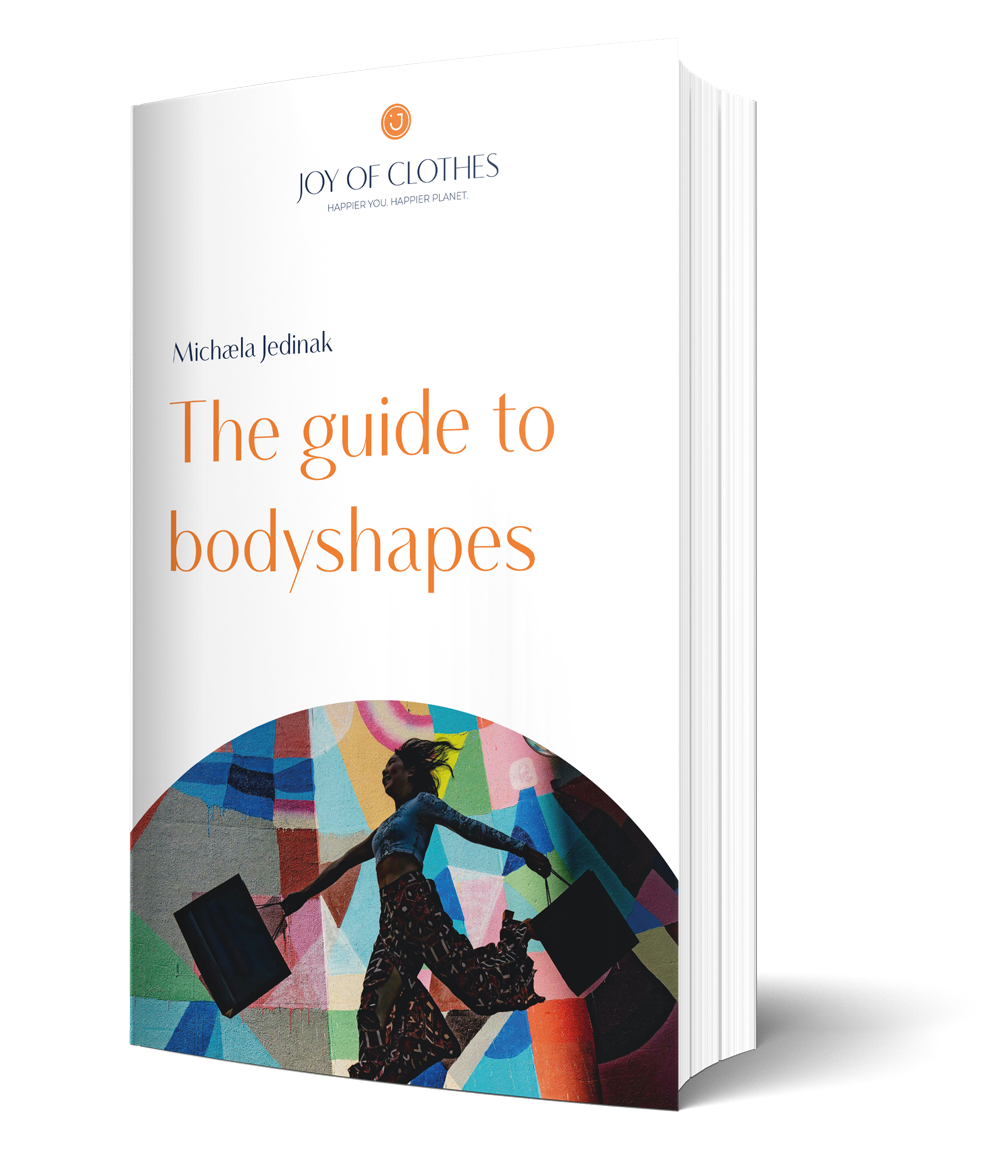 Free Course
10 tips for a Happier You. Happier Planet.
Inside you will learn simple but life-changing tips to help you and the planet be happier. sign up now and receive your free tips.
Brand Directory
See our directory of sustainable fashion brands
Our aim is to make it easier for you to find the brands which are trying to adopt sustainable fashion practices and share your love of the planet and other animals.