Waistband and Back Yoke on Jeans
These details are extremely important.
The waistband is made of a double layer of denim, and is more rigid, allowing it to hold your tummy much like a girdle. A wider waistband will help even more.
Jeans with waistlines that are cut higher in the back, and lower in the front, are figure-flattering. The most flattering jeans contain 1% to 2% lycra or spandex. This elasticity allows them to hold everything in place without totally sacrificing comfort.
Now, the back yoke allows designers to play with perceptual illusions that, if used for the right reason, can enhance your look.
Here are some of the options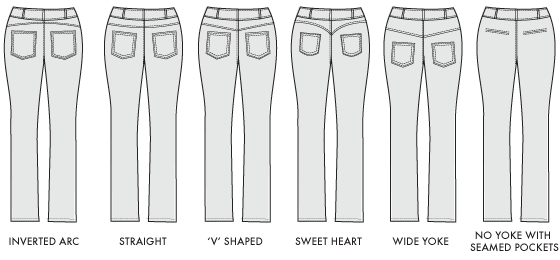 Inverted Arc

Gives the illusion of a fuller rear.

Straight (Horizontal)

This yoke line will make your waist appear wider. Not the most flattering unless you wish to emphasize your curves.

V" Shape

Most widely used and most flattering back yoke cut.

Sweet Heart

This yoke type can truly enhance a small bottom, as the cut clearly outlines a curvy heart shape. It works very well with stretch tight jeans since it allows the pants to conform to your figure.

Wide Yoke

This cut is used to achieve the "falling pants" look. The illusion is enhanced by the placement of the pockets way below the butt. This look is great for some guys, though not very flattering to any woman's figure.

No Yoke

The garment is contoured by the use of darts. This look is very conservative, and with a proper fit can work very well for women with a bigger bottom.
The size and shape of the back yoke directly affects the size and placement of the rear pockets, which is crucial.
Jeans style advice: What you should know
Save and Share