Style Advice – The guide to body shapes
The full hourglass body shape
To determine if you are a full hourglass body shape, look at yourself in the mirror in your underwear. Stand with your legs together and your arms a bit away from your sides. Examine the area from under your arms, past your bust and ribcage, over your waist and hips to the fullest part of your thighs.
Then compare yourself to the image and review the questions and characteristics below. We suggest you look at all the body shapes to find your closest match.
BODY SHAPE STYLE ADVICE
DO YOU
Feel most comfortable in more fitted styles?

Find that a straight skirt rises up?

Find that waistbands are often too large?

Wear a slightly larger size on top to accommodate your bust?
YOUR BUILD IS CHARACTERISED BY:
Bigger thighs

A rounded bottom and hips

A small waist

A full bust
OTHER BODY SHAPE TENDENCIES
If you have gained or lost weight many times your body shape can change into another one. Read below to see what other body shape tendencies you might have
A leaner body around your bust, hips and tummy might point you to a neat hourglass shape

Extra weight around your hips can make you lean towards a pear shape

Extra weight around your waist can make you lean towards an apple body shape
GENERAL RULES FOR YOUR BODY SHAPE AND HOW TO CREATE VISUAL BALANCE:
You need to wear shaped and fitted lines in order to follow your body line, but avoid bulk and volume around your feminine curves
Wear a good supporting bra that will lift our bust and give you a more defined waist

Bring attention to your shoulder and neckline, wear designs that bring the eye to the centre by wearing wider and lower necklines

Extend the shoulder past the thickest part of the arms
YOU SHOULD AVOID:
Straight shapes that hide your waist

Fussy styles and details that create additional volume around your bust, tummy, thighs e.g. dropped sleeve lines, pleats, high-waisted styles, hip pockets

High necklines that cover up your cleavage and décolleté e.g. turtle neck

Boxy jackets, or double breasted styles, narrowing leg lines or wide/short sleeves which finish near your bust

THE BODY SHAPES AND THEIR CLOTHING LINES
Every body shape has its own characteristics and silhouette, which needs to be addressed when choosing your clothes. The aim of choosing the right clothes is to balance your silhouette. You may not be able to follow all the fashion tends that are out there, but nowadays there are so many trends in fashion that there is something available for every body shape. So, don't get sidetracked by falling in love with a style and look that doesn't match your body shape:
NECKLINE FOR FULL HOURGLASS BODY SHAPE
Cap, ¾ sleeves, above wrist, wrist length, shaped.
SLEEVES FOR FULL HOURGLASS BODY SHAPE
Opt for lower and wider necklines like scoop, square or sweetheart. Keep attention around your bust and décolletage line e.g. use embellishments, colour, pattern. A high yoke which gathers or draped bodice is excellent camouflage for a heavy busted person.
TOPS & SHIRTS FOR FULL HOURGLASS BODY SHAPE
Shoulder pads are good to allow the sleeves to hang unrestricted; cross overs or wraps in soft fabrics; empire lines that go in under your bust, side fastening.
JACKETS FOR FULL HOURGLASS BODY SHAPE
Fitted with shawl collar or concealed front opening, single breasted, wide lapels which have to sit above your bust.
COATS FOR FULL HOURGLASS BODY SHAPE
Fitted styles with shawl collar, single breasted.
DRESSES FOR FULL HOURGLASS BODY SHAPE
Wrap or bias-cut shift, empire line that goes in under the bust, hemline no shorter than knee length.
SKIRTS FOR FULL HOURGLASS BODY SHAPE
Flip, bias or full skirts that are adjustable at the waist, pencil skirts (best with a split at the back or side. Best hemline is knee length or longer.
TROUSERS FOR FULL HOURGLASS BODY SHAPE
Flat fronted with side zip, plain, straight or flared/wide legs (best for long legs).
JEANS FOR FULL HOURGLASS BODY SHAPE
Simple and clean styles such as classic boot cut or straight leg are best. A narrowing leg is a tricky option.
SHOES FOR FULL HOURGLASS BODY SHAPE
Medium to chunky heel; platforms; wedges; a pointed or square toe looks great, considering you have good calves you are relatively flexible in shoe choices, wear colour and detail in your shoes.
BAGS FOR FULL HOURGLASS BODY SHAPE
Choose chunky styles; shoulder bags that will sit near your waist and not your too close to your bust, hand bags are good, be careful with clutch bags (only good with slimmer arms).
SWIMWEAR & BEACHWEAR FOR FULL HOURGLASS BODY SHAPE
Under-wiring or support is essential; be aware of high-cut styles and avoid stripes, thongs and detailing at the bust and hips.
EBooks
Learn about your body shape
Read our advice on what to wear for your body shape.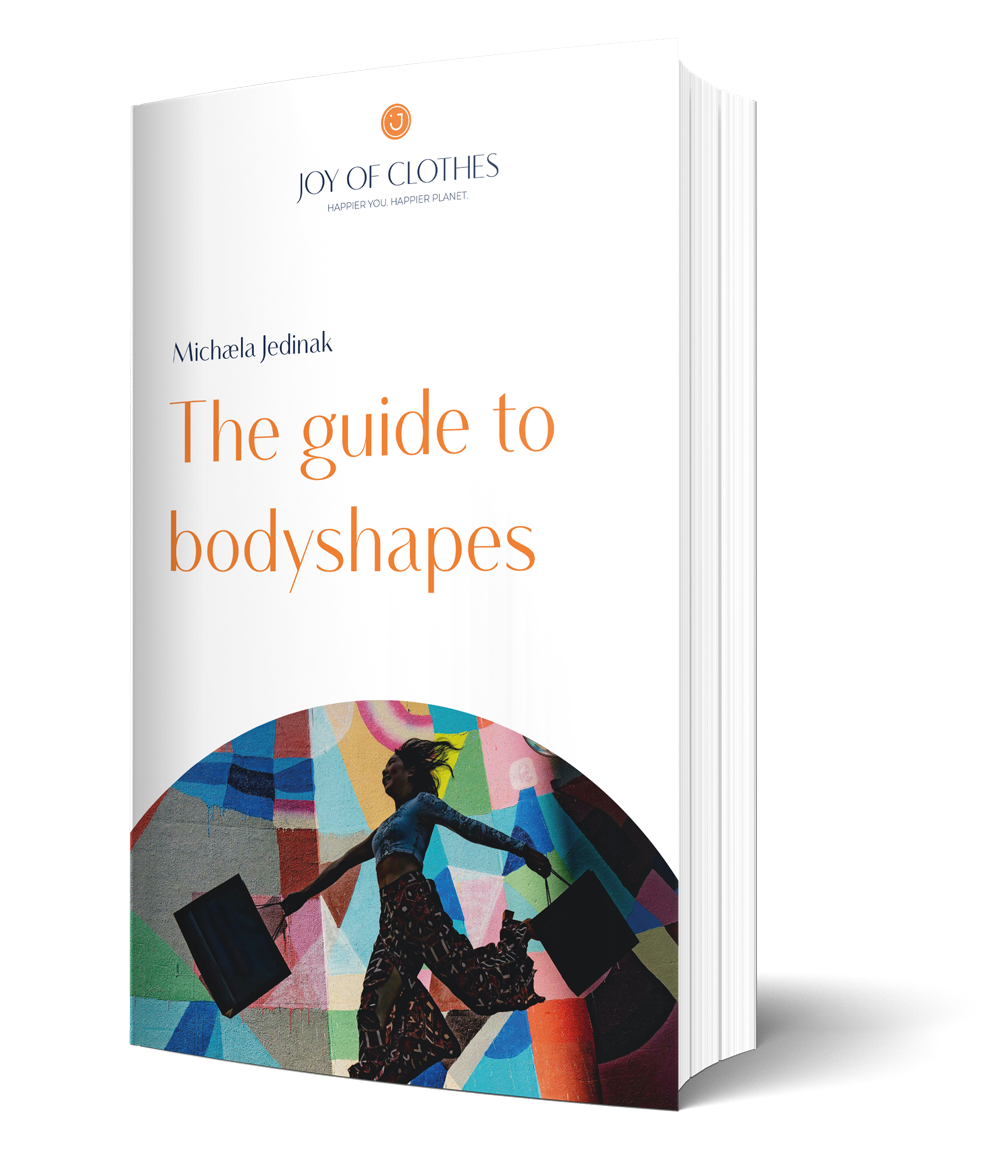 Free Course
10 tips for a Happier You. Happier Planet.
Inside you will learn simple but life-changing tips to help you and the planet be happier. sign up now and receive your free tips.
Brand Directory
See our directory of sustainable fashion brands
Our aim is to make it easier for you to find the brands which are trying to adopt sustainable fashion practices and share your love of the planet and other animals.