Style Advice – Clothes guides
The complete guide to necklines

It's amazing how a small part of your garment can radically alter your whole appearance. It can add charm, make you look smarter and generally flatter you, or it can totally ruin the image you've been trying to create. Neckline is an important thing to consider when trying to look your best, whether it's on a date, at the office, or just walking your cute dog in the park.  
From high-collar necklines like turtlenecks to plunging necklines that reach the belly button, and everything in between, the number of necklines available on dresses, blouses, and sweaters of all kinds is staggering.
How do you know which ones will look best on you? When deciding which necklines to wear you need to be aware of several things. How prominent are your collarbones? Is your neck wide or thin, long or short? Do you have a big or small bust? How at ease do you feel highlighting these areas?
Once you've examined every single feature, finding the most flattering neckline for yourself, you can piece all the information together like a puzzle – at the end you'll have all you need to form aand picture of your individual neckline. Using those facts, you can personalise even further by injecting some of your own personality, adjusting for the occasion, your life style and the season. Also, doing this makes it easier to analyse current and upcoming fashion trends by eliminating necklines, which you might think nice, but won't suit you, choosing instead the ones that will look good. Keep in mind that your neckline can change over time – it's not set in stone! Weight loss and gain can affect several of the six individual factors that determine your personal neckline.
Finding your most flattering neckline
Choosing your individual neckline is an important decision since it sits so close to your face, as well to your bust. Everyone notices a good or bad neckline when speaking or looking at someone. It's a focal point you need to get right no matter what you wear or what the occasion is. It is part of your first impression and will always underline how you come across and stress what you've got to say. So, before choosing your neckline of your preference you need to know which neckline style will suit your build. As always, not everyone can wear every single neckline. So, it is not only down to what you want to highlight but also what you should highlight. Necklines are great features for adding personality, or a signature so really have fun with it.
The six main factors that define your neckline
Fortunately for all of us, there are some "simple rules" we can follow when choosing flattering necklines. In fact there are only 6 factors to keep in mind when determining which necklines will work for your outfit.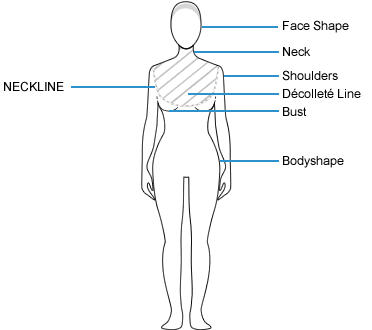 Body shape (e.g. pear or inverted triangle)
Bust (e.g. big, small)
Décolleté line (e.g. prominent collar bones or a pidgeon chest)
Face (e.g. size, and shape)
Neck (e.g. wide, long, double chin)
Shoulders (e.g. sloping, broad)
The concept of balance is most important when choosing a flattering neckline – when you look in the mirror you must see that everything is in proportion. So analyse yourself in order to find your perfect neckline – we're not taking personality into account here.
Free Course
10 tips for a Happier You. Happier Planet.
Inside you will learn simple but life-changing tips to help you and the planet be happier. sign up now and receive your free tips.
Brand Directory
See our directory of sustainable fashion brands
Our aim is to make it easier for you to find the brands which are trying to adopt sustainable fashion practices and share your love of the planet and other animals.