Search out the perfect luggage
When looking for luggage, choose substance and practicality over style.
Luggage buying guide – Find luggage that fits your needs
For the traveller, luggage is a long-term investment. With hundreds of brands, styles and sizes to choose from, purchasing luggage can be a daunting task.
We've put some information together to help you find the type of suitcase that suits you best. When purchasing luggage you should ask yourself a few questions:
How often will you be travelling? How often will it be used (once a week or once a year)?
Why do you travel?
Where will you be travelling?
Will it be used for personal or business use? Or both?
What kind of luggage would you be comfortable carrying? How do you prefer to carry it, by the handle, over your shoulder or pulling it on wheels?
How much will you be packing (enough clothes for overnight trips or bulky, heavy items)?
How much does it weigh empty? Do you need a hard- or soft-sided case (soft is lighter, but easier to damage; hard is heavier, but holds up better).
Costly or inexpensive? Expensive luggage is more likely to be targeted for theft. Cheap luggage falls apart sooner.
Single compartment versus multi-compartment? Non-sectioned pieces allow you to put things where you want. Divided luggage keeps items organized and in place.
Knowing a little about the different types of luggage available also helps. Suitcases are the most common, but business cases, duffle bags, garment bags and backpacks are also useful.
Suitcasses
While suitcases come in a wide variety of sizes and configurations, most fall into one of three categories: hard-sided, soft-sided and semi-soft. Each can be anywhere from 24 inches to 36 inches in size.
Hard-sided suitcases

provide maximum protection and durability. They feature wheels, locks, and pull straps and are especially durable against wear and tear. Many are constructed of plastic, metal, or other moulded materials, which makes them difficult to expand.

Soft-sided suitcases

are easily expandable and lightweight, with many more options for exterior storage pockets and zip closures, allowing you to adjust the amount the case can hold. They won't provide as much impact protection as a hard-sided suitcase though.

Semi-soft suitcases

In the middle you have semi-soft suitcases. These provide the best of both worlds – soft sides with a solid frame. They are easily expandable, and they provide more impact protection and security than soft-sided bags. They also weigh less than a hard-sided suitcase and most have wheels and straps for easy transport.
Small luggage options
Select small luggage items designed for overnight travel, short trips, and airplane use.
Carry on luggage
is any suitcase or bag that is small enough to fit under the seat on a plane, usually less than 22 inches in size. Carry-on luggage is available in hard, semi-soft, or soft varieties.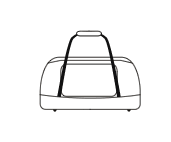 Duffle bags
are large, roomy soft-sided bags. They are great for storing clothes, accessories, sports apparel and equipment. Today you can find duffle bags with wheels and pull-out handles to ease manoeuvrability.
Holdalls
are very similar to duffle bags. It offers the traveller practicality, functionality and high storage capacity on wheels. Whether overnight, short stop-over, or longer vacation, the stylish wheeled holdall is unsurpassed, usually offering the quality one would expect from a brand name, at a very competitive price.
Business cases
are large briefcases designed to hold a laptop, important papers and in some cases, an overnight change of clothes. They are designed to have a professional appearance and are usually made of leather.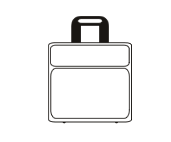 Garment bags
allow travellers to keep their clothes on hangers. A folding garment bag is easy to carry and helps avoid the need for excessive ironing on your vacation. Men's garment bags are usually 40 inches long for suits, while most women's are 54 inches for dresses. They can also be found in 60-inch lengths for evening clothes.
Backpacks
are designed for more casual travelling and outdoor trips. They also work for people willing to pack light. There are a lot of new sporty designs and sizes. They can be kitted out with precise features, first-rate back ventilation, reduced weight and lightweight fabrics. Rolling backpacks are also available. Keep in mind that your shoulders and back need to be able to support all the weight in your backpack.
Luggage tips
Identify your case
Get a distinctive luggage set that will be easy to find at a baggage claim
Suitcases, particularly in black, can often look the same on the airport carousel so buy a suitcase in a bright colour or print, or clearly mark or personalise your suitcase on the outside with a ribbon or accessories so it's easy to spot. To make it even more noticeable and unique, you can tie a short, colourful ribbon around the handle or stick, or affix some bright tape to the exterior of the suitcase.
Family traveller
A luggage set would provide matching bags for each family member, so the kids could carry the small ones and Mom and Dad the big ones. Plus they will again be easy to spot at the baggage claim.
International traveller
Get a set of different sizes, so you are always prepared when travelling on business or for pleasure- no matter how long or short your journey might be.
Airline cabin luggage allowances

The standard BAA & Department for Transport guideline is maximum 56cm high x 45cm wide x 25cm deep. This is a guide only and is subject to change. Best is to call your airline prior to departure luggage. View our luggage size guide.

Lightweight

The trend towards lightweight luggage has strengthened with ever increasing restrictions on how much we can check in.

Four wheel

360º Four wheels ensure the case is sturdy and stable and the 360º spinner allows for easy manoeuvrability. Most importantly however, the weight of the case is transferred to the wheels and doesn't rely on the strength of the user.

Laptop safety

Some insurance firms will no longer insure your laptop if it is in a computer branded bag. Buy an anonymous-looking business bag instead, much safer.

In-transit damage

In-transit damage can happen, no matter how robust your luggage may seem. It is a tough life for a suitcase as it follows you on your travels! Most carriers are insured against the wear and tear that can occur, as long as you make your claim before you leave the arrivals hall. Remember to check your luggage carefully.

Packing

Remember to pack half of your own clothes in one case and the balance in the other. If one goes missing – at least you will have something to start your holiday with!

Personal details

Keep them safe! Scan a copy of your passport, visa and paper tickets and either print them out to pack in your main luggage, copy onto a usb to pack or email them to yourself for immediate access should your bag go missing. A copy of your credit cards and bank contact details could prove useful if you need to report and cancel any stolen cards.

Save your back

Save your back by taking two smaller cases instead of one monster piece if you are travelling as a couple. Many airlines today are very strict on the weight of a single case so avoid the excess baggage charge and give your back a break!

Silent wheel

Opt for rubber wheels, which absorb the impacts of a rough surface as they travel quietly over those cobblestones.
Free Course
10 tips for a Happier You. Happier Planet.
Inside you will learn simple but life-changing tips to help you and the planet be happier. sign up now and receive your free tips.
Brand Directory
See our directory of sustainable fashion brands
Our aim is to make it easier for you to find the brands which are trying to adopt sustainable fashion practices and share your love of the planet and other animals.