Style Advice – Clothes guides
Style guide to hosiery

In the past hosiery was something desirable to wear. It was regarded as expensive, feminine, sexy and ladylike. No outfit was complete without the right pair of hosiery no matter the occasion or weather. This has changed – and not for the better. Hosiery has become in fashion almost an afterthought or what you can't avoid in wearing in cold weather or what you wear when you are of age.
It is a pity that hosiery lost its importance in a woman's wardrobe, because the right hosiery is like the icing on the cake for any formal outfit- it gives it its vavawum effect. An outfit that goes from just elegant to elegant chic.
Hosiery can do magic to your legs, calves and outfit by concealing a less perfect skin, make mature skin look smooth and a young skin stand out, slim a big leg and calve and make beautiful legs and calves stand out. It is the easiest way of updating a working wardrobe and giving a current look to your investment pieces.
The choices in hosiery are great. They not only come in different types to suit her style personality, but are as well available in a variety of colours, patterns and styles. Hosiery follows fashion trends as all fashion items do, which means that we women shouldn't be tempted what we love most but need to assess carefully what works best on our body shape, height, proportion and calf size. As any fashion item they can flatter our body shape and build or can do quiet the opposite, which will have a negative impact.
As Pablo Picasso said, we need to know the rules first before we can experiment more freely to find our own unique style – our STYLE DNA. In order to know the rules we need to asses ourselves first from top to toe to find out what works best on us. Once you have found your fashion rules they will build on your strengths and give you confidence rather feeding on your insecurities.
I have always been the opinion that every woman should be her own expert on what looks best on her rather leaning on other people to tell her what looks best on her.
General advice for hosiery
In British English, the word "tights" means pantyhose, whereas American English uses this word only for thicker leg coverings, such as those worn by ballet dancers.
Most American women use the word "stockings" generically, to refer to any sheer leg covering, whether pantyhose, thigh highs, or stockings held up by garters.
Wikipedia defines the stocking as a garment that covers the "foot and lower part of the leg," and tights as "sheathing the body from about the waist to the feet." Their definition of pantyhose begins with "also called tights."
Let's say:
Denier: Tights are measured in Deniers, a unit of density measurement how thick hosiery is. The lower the denier, the finer the yarn, the more sheer the tights are. The higher the denier, the more opaque are the hosiery. Opaque tights are heavier in denier and therefore warmer. Deniers range from less than 10 to over 50. However, for the appearance of bare legs, it is necessary to choose around 10 denier or less.
General Guidelines
Less than 10 denier = ultra sheer,
10-20 denier = sheer,
25-35 denier = semi-opaque,
40+den = opaque
Hosiery

 

– Generic term to describe everything worn on the legs that has nylon as its core component. Includes tights, hold ups, stockings, knee-highs and ankle highs.
Nylons

 

– leg coverings made of nylon
Opaque

 

Thick hosiery that is warm and extremely durable. Generally 40 denier and over. Great for everyday and winter wear
Pantyhose (Used in the USA)

 

– leg coverings made of nylon that go to the waist
Stockings

 

– leg coverings made of whatever you please that come in pairs and cover the foot and lower leg
Tights(Used in the UK)

 

– leg coverings that go to the waist and are made of whatever you please, including lacy styles (pictured), besides a sheer nylon
Tights/Opaque

 

– The main difference between them is the garment weight. Tights are typically heavier, less sheer than opaque
EBooks
The complete guide to hosiery
Hosiery is often seen as an afterthought of an outfit, this eBook is a complete guide showing how hosiery can do magic to your legs, calves and look.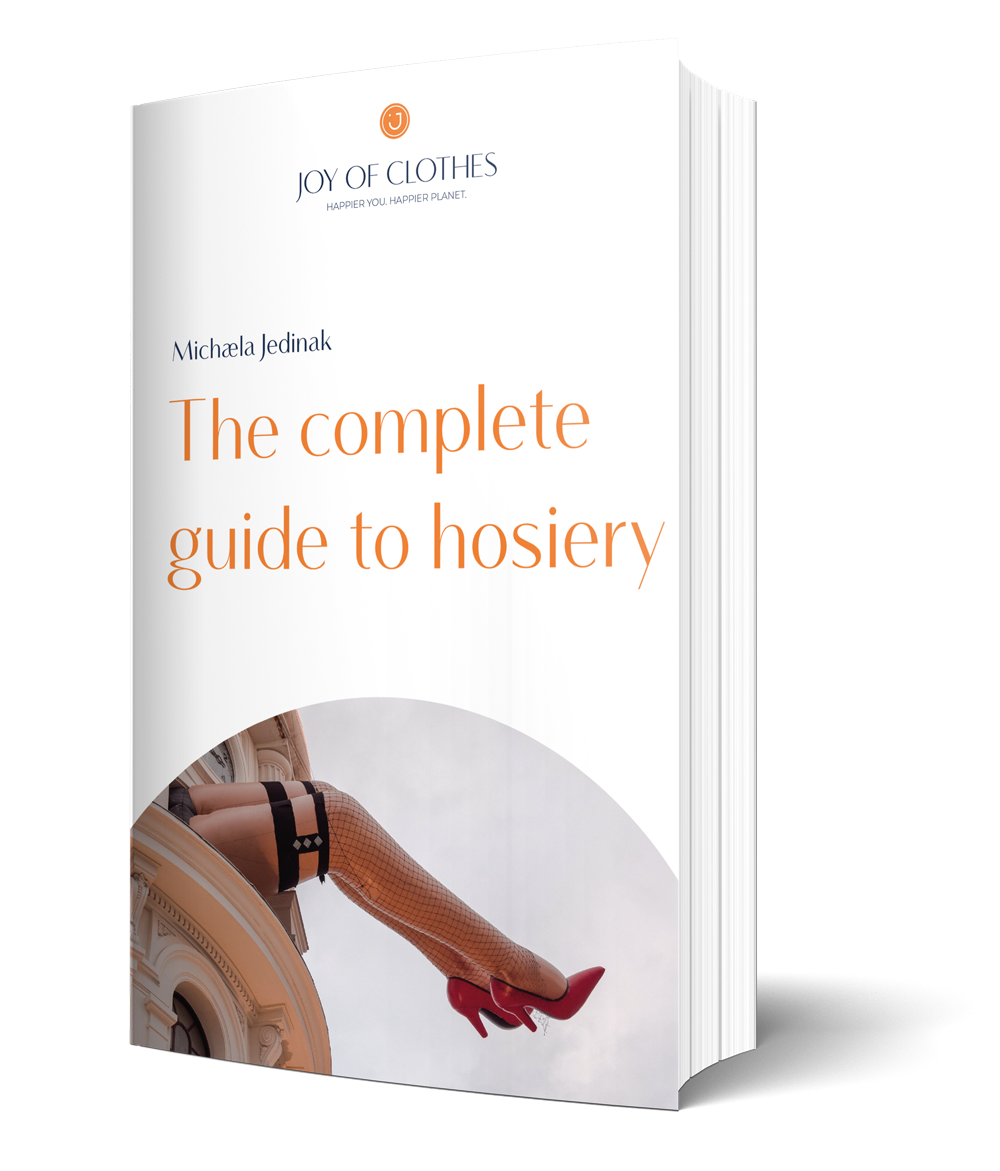 Free Course
10 tips for a Happier You. Happier Planet.
Inside you will learn simple but life-changing tips to help you and the planet be happier. sign up now and receive your free tips.
Brand Directory
See our directory of sustainable fashion brands
Our aim is to make it easier for you to find the brands which are trying to adopt sustainable fashion practices and share your love of the planet and other animals.