How to measure yourself
The following guidelines should help you to measure yourself in order to find your perfect size in the UK or when buying an international label. Each person is an individual and has their own unique combination of physical features .E.g.: You might be a size 6 on top but a size 12 on bottom - small busted-average in your bone structure - long body and short legs, but have a long neck and fingers - what do you wear? How do you wear your clothes?
What are the right styles, fabrics, accessories for you? Where should or should you not add details and colour to look balanced? At Joy of Clothes we can help you to show you the right styles for your body shape, size, scale, proportion and personal colouring.
How to Measure Yourself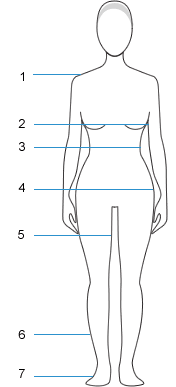 1 - Top of Shoulder

Take measurement from collarbone

2 - Bust

Take measurement across fullest part and across shoulder blades.

3 - Waist

Measure around natural waistline.

4 - Hips

Measure at widest part.

5 - Inside leg

Measure from the top of the inside leg at the crotch to the ankle bone.

6 - Calf

Always measure both calves (they can vary in size!) and always use the wider measurement when buying boots.

7 - Feet

Measure to the nearest cm/inches. Foot size can also vary, so measure both feet and use the wider measurement)
What is your scale?
Height
Petite
4'11"-5'3"
150-160cm
Standard
5'3"-5'6"
160-167.5cm
Long
5'6"-5'10"
167.5-177.5cm
Save and Share