Jeans Advice for Inverted Triangle Body Shape
Aim
You need clothes which make hips look broader, to balance out your top with your bottom half.
Straight

Boot cut

Skinny

Low rise

High-waisted

Capri

Flare
Do's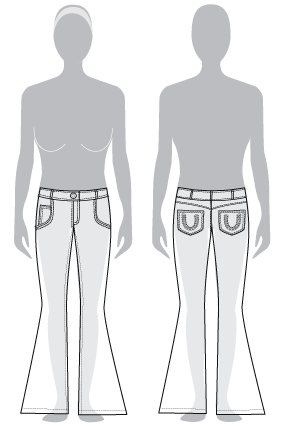 All leg lines that are wider in their hemline e.g. boot-cut, flared and wide leg (unless you are short in height). They will give a long and lean look and make you look balanced.

Pockets, embellishment, colour and print will all work for you - look for styles that enhance your backside.

Slim frames can benefit from side pockets, which create a fuller thigh.

Look for jeans with a yoke in the back, which can make your backside look fuller.

Consider low rise (medium rise is ok) jeans with a contoured waistline.

Strategically placed washes or embellishments in the front and back pocket areas will attract attention to your hips.

Also lighter washes or fades along the legs and knees add shape to thighs.

Boyfriend and baggy jeans will look great on you since they will also balance out your silhouette.

The choice is yours when it comes to details on bottom and thigh area. As well extra fabric in these areas will be a good look for you.

Turn ups are a great style line for you.
Don'ts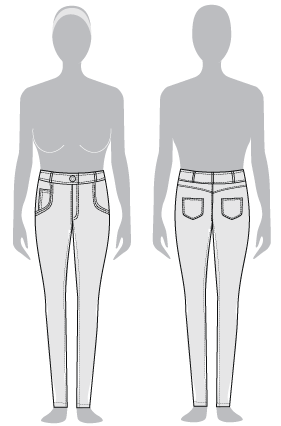 Never use tapered jeans or any that are tight in the knees – it will emphasise your broader shoulders and leaner hips and bum.

Avoid standard straight legged jeans.

Avoid jeans with very small waistbands.

Avoid pocket-less jeans.

Jeans in darker colours will make your hips appear smaller.

Avoid styles and shapes that will have a slimming and narrowing effect from your waist down.
Jeans style advice: What you should know
Save and Share